On July 19th, we hosted a celebration of parent leadership and community and five years of the Parent Accountability Council. 
To all of the PAC members, community based partner organizations, stakeholders and community members, thank you all for coming out to support and celebrate.  A special thank you to Early Learning Director Miriam Calderon and Multnomah County Commissioner Jessica Vega Pederson. ELM and PAC are grateful for YOU!
Below are some photos from the celebration at Gateway Discovery Park and comments from PAC members and Early Learning Multnomah staff.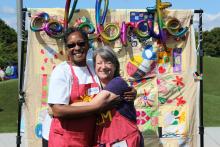 MOLLY DAY 
Early Learning Director
"The round dance that Black River Singers led to close the day was a highlight for me. I was feeling a bit self-conscious about my dance steps but all that fell away when I looked up and saw people from across the PAC communities following the drum and dancing the best they could. That's how PAC is—a community that steps into the circle together, ready to move."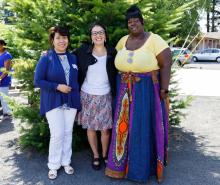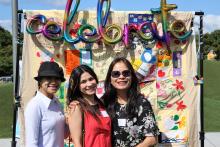 LAM HOANG
PAC Member
"This is my thinking about the Celebration that was so amazing.  We could meet parents and staffs. We talked and shared with each other about experience.  The food was delicious. The nice park for kids playing and safety. The staff were friendly and nice that make parents feel respected.  The traditional shows were great. 
Thank you so much for inviting the parents to come to the Celebration and 5 years of ELM and PAC."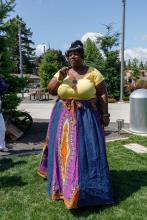 LYDIA GRAY-HOLIFIELD
PAC Member 
"When I looked at all the communities that were represented, and the families that were there it brought tears of joy to my eyes. We have come such a long way in these past five years. It has not been easy but it has been worth it all. I am very proud and honored to be a part of this. Here's to another 5 years where we will be getting the preschool for all up and going to create more Parent Leaders with paid positions."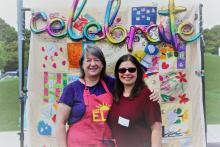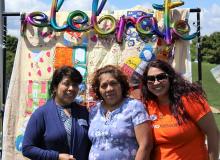 LUPE CAMPOS
Early Childhood Program Manager, Latino Network
"It was a surreal feeling to be celebrating 5 years of PAC. I have been so honored and humbled by being a part of this wonderfully diverse and inclusive group of parents.  I saw a quote once that said, "I didn't have to find my voice. I had to find who was silencing it." This group knows and has dedicated their time, energy, and passion to help community by raising that voice that was silenced for so long and making it hard for anyone to silence or ignore it again. It has been incredibly life changing to see so many different cultures come together in unity and love, to drive change."


THANK YOU LAI-LANI
(L-R) ELM Senior Manager, wife and toddler CEO
For bolstering the voices of the PAC members to the forefront, standing as an ally with them and promoting their strengths as individuals and a community.  For facilitating and coordinating this wonderful event while honoring and upholding the cultural diversity of each member represented.  Again, we say Thank You.